Special Vehicle Intercom Systems
Some examples of intercom systems Wolf Elec have built for Special Vehicle Manufacturers:
Wolf Elec Intercoms have built many more variations and are pleased to custom build to your requirements, even if it is just for one vehicle.
Airport Support Vehicle Intercom Systems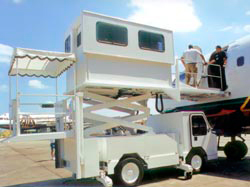 Clear communication between the driver and the raised cabin is vital when loading, maneuvering and positioning alongside a plane.
Radio systems can be subject to interference or failure when batteries are low, but our hardwired intercoms provide the perfect system. The driver's hands are free to control the vehicle, and the cabin staff have a telephone-type handset for discrete communications.
From Cabin: Pick up the handset and press the button. This will call the driver to switch on the Intercom. Speak and then replace the handset when finished.
From Driver: When called from the handset, a buzzer will sound. Switch the Intercom on.
Speak to the crew through the cab microphone and hear the response over the speaker.
To call the handset, turn on the Intercom and press the Call button. Wait for the handset to be picked up.

   Please contact us for further details.

Highway Maintenance Vehicles
Our initial design was for vehicles laying and collecting road cones on highways. The operatives could be in one of two wells on either side of the vehicle. They need to be in contact with the driver for safety, and to communicate progress.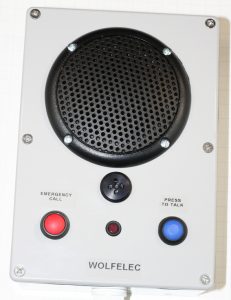 On the outside of the vehicle there are two stations housed in waterproof encloures with rugged waterproof microphones, speakers and call buttons.
Inside the vehicle the driver has the control switches, a speaker and a microphone.
When the intercom is 'on' the driver operation is hands free, to meet with legal requirements.

   Please contact us for further details.
Horse Boxes, Control Vehicles & Motorhomes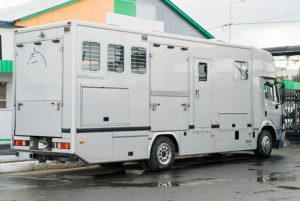 These intercoms are for use both on the move and when parked. They allow communication between up to three locations.
The driver's operation is usually hands free. The rear stations can be in surface mount boxes, flush fitted, telephone handsets or discreet plug in headsets. Please contact us to discuss your needs.

Contact us to discuss your Special Vehicle intercom requirements.