Custodial & Prison Transport Intercom Systems
The Wolf Elec Intercom System helps ensure that the security of a prisoner transport vehicle is paramount at all times.
In 2012 most of the British fleet for prisoner escort and custodial transport were replaced with new vehicles. These varied from single cell, soft skin vehicles to high security, multi-cell armoured trucks. These were built by various highly specialized vehicle manufacturers, but each chose Wolf Elec to supply the intercom system for the driver to communicate with a guard, either inside or outside of the vehicle. We now supply these products around the world.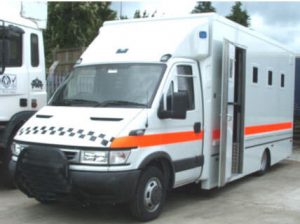 To meet these requirements we developed a range of intercoms to suit each type of vehicle.  These fell into two categories.
Driver to Rear
Driver to Outside Persons
Due to the secure nature of these vehicles, we can only provide more specific information on request from qualified enquiries.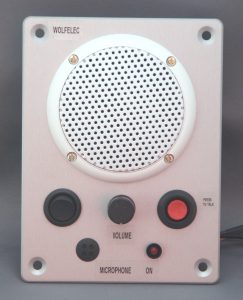 To meet legislation and ensure safety the driver operation is normally 'hands free'. The front cab usually has just a microphone and a speaker.
A number of solutions are available for the officer or guard in the rear. These can include telephone handsets, a pre-fitted intercom control panel, or components to integrate in to your own console.  Headsets and sockets can also be provided for more discreet communication.
In single or two -ell vehicles, with no guard, we can provide a system to monitor and speak directly to the cell occupants.

       Please contact us for further information
---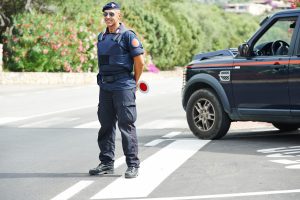 It is often important for the driver to be able to have a two way conversation with someone outside of the vehicle, however a window cannot be opened as this reduces security.  Wolfelec have a range of discreet, yet rugged and reliable, external microphones and speakers to accomplish this purpose and keep the vehicle secure.

Contact us to discuss your Custodial & Prison Transport intercom requirements.
---